AN AUTHENTIC FISHING COMMUNITY
Lynn's is located at 402 Highway 98 in Eastpoint, Florida. Our seafood market sits right on the Apalachicola Bay. We hope you'll stop by to browse the freshest seafood in the Florida panhandle at our retail market. While you're here, don't forget to enjoy a delicious meal at The Raw Bar. Grab a table out on the deck to watch the sun set over the Apalachicola Bay. Hope to see y'all soon!
Located in Franklin County, Eastpoint serves as the heart of the Florida's Forgotten Coast's commercial oyster industry. This unique town is home to one of the few remaining working waterfronts in North Florida. It's an old-fashioned fishing community where visitors and locals can find the freshest seafood under the Florida sun.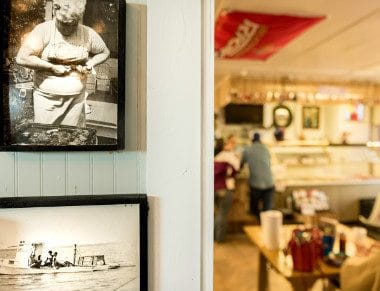 Nestled across the bay from Apalachicola and St. George Island, Eastpoint is one of the few remaining working fishing communities in the Sunshine State. In this Old Florida town, you'll see oystermen haul their heavy burlap bags of freshly harvested Apalachicola Bay oysters onto weather-worn docks. They deliver the oysters to seafood houses, where the oysters are washed, shucked, packed and sometimes transported across the country.
Here at Lynn's, the process begins with our oyster harvesters. Their day kicks off at daybreak. These men and women cruise out on their boats into the Apalachicola Bay, where they work the beds laden with oysters. They embed their special tongs in the bay's bottom floor, pull up the oysters and haul them onto the boat. Then, they cull the oysters by knocking off all of the spats and other sea growth that cultivate on the marine beds. This process separates them into individual oysters. The harvesters place the oysters into burlap sacks and deliver them to our loading docks.
Once the oyster harvesters stack their oysters onto our loading docks, our housemen carefully inspect them for quality and store them in our coolers to keep them super fresh. At this point, the bushels of oysters are ready to be shipped, and our fresh shell stocks are ready for delivery.
Our shucked products take even more effort and time. The men and women who shuck our oysters get started before sunrise. They work diligently in their shucking stalls, using their machines to carefully yet quickly open each oyster and remove it from its shell.  Shucking is truly an art form. It requires a meticulous balance of being fast but gentle so as to not cut the delicate meat. The oysters are shucked into stainless steel gallon buckets and are then moved into the packing room. Once they reach the packing room, the oysters are skimmed through and placed into their shipping containers according to our order requests.

RETAIL MARKET HOURS
Monday and Tuesday: 10 am - 8 pm
Wednesday: 10 am - 7 pm
Thursday, Friday, Saturday: 10 am - 9 pm
Sunday: 9 am - 6 pm
RAW BAR HOURS
Monday and Tuesday: 10 am - 8 pm
Wednesday: CLOSED
Thursday, Friday, Saturday: 10 am - 9 pm
Sunday: CLOSED