SATISFY YOUR CRAVINGS AT LYNN'S RAW BAR
#1 SEAFOOD RESTAURANT IN EASTPOINT!
If you're craving local fresh seafood in a laid-back setting, look no further than The Raw Bar at Lynn's! A fan-favorite for locals and visitors, we consistently rank as Eastpoint's #1 seafood restaurant on TripAdvisor.
At our top-rated seafood restaurant, we serve up the most sought-after delicacy in the Sunshine State: Apalachicola oysters. Our fresh caught oysters are harvested straight from the rich waters of the Apalachicola Bay. Of course, we also offer a wide array of other local fresh seafood, including shrimp, crabs and the catch of the day.
Whether you're on the hunt for an Apalachicola seafood restaurant or searching for a St. George Island seafood restaurant, meet us in the middle here in Eastpoint! You won't regret the short trek to The Raw Bar at Lynn's, where you'll find the best local fresh seafood in an easy-going Old Florida-style setting.
RAW BAR HOURS
Monday and Tuesday: 10 am - 8 pm
Wednesday: CLOSED
Thursday, Friday, Saturday: 10 am - 9 pm
Sunday: CLOSED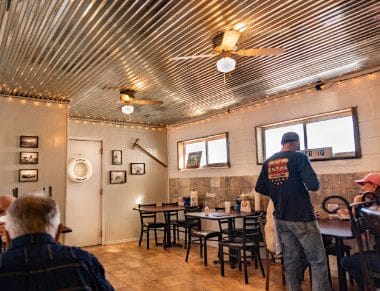 Scrumptious Seafood Selections & More
Our mouthwatering menu is chock-full of flavorful fare with an emphasis on fresh local seafood. We serve raw, steamed and topped Apalachicola oysters, steamed shrimp and crabs, seafood gumbo and shrimp salad. Have your taste buds set for a delectable dip? Try our smoked mahi-mahi fish dip or fresh Gulf shrimp dip.
Of course, we also offer tasty grub for the kiddos. (Corn dogs and chips, anyone?) If you save any room, try a slice of our luscious homemade key lime pie—or better yet, take a whole pie home with you!
We also serve beer and wine. The Raw Bar at Lynn's truly dishes up something for everyone!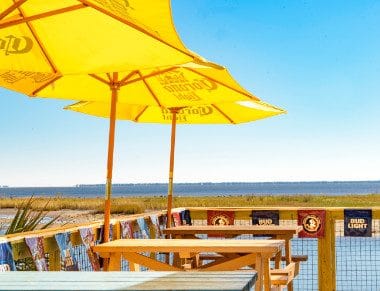 Indoor & Outdoor Dining
The Raw Bar at Lynn's serves up first-class local fresh seafood in a friendly, casual setting. Dine inside the seafood restaurant or grab a table out on the deck for stunning views of the sunset over the Apalachicola Bay. Our outside deck is dog-friendly, so bring your four-legged friend along with you!
Rave Reviews
The Raw Bar at Lynn's has maintained a 5 out of 5 rating on TripAdvisor for three years in a row and earned 5 out of 5 stars on Google this year!
But you don't have to take our word for it! Just take a look at what diners have to say about us:
TripAdvisor Reviews:
Cannot beat the quality (5 out of 5 rating)
Locals know a good thing when they find it and Lynn's is no exception. If you go on Tuesday, try their fish or shrimp tacos... best in the area.
Superb Oysters (5 out of 5 rating)
These were some of freshest and most delicious oysters we've ever tasted. Great food and really friendly people. Don't miss it!
Google Reviews:
(5 Stars) Very welcoming staff. Great oysters and mahi fish dip. Rustic and down home place...not uppity.
(5 Stars) A Florida Cracker's paradise. Plump tasty oysters and cold beer. The smoked mullet were the best ever. We even made new friends.